Prepare:
1、one Raspberry pi board (PI3、 PI3+ )

2、one TF card (at least 8G )

3、one TF card reader

4、one AMP module and case (make by INNO-MAKER)

5、one Power Adapter (12 V ~ 20V)

6、2 Speakers

7、Screwdriver

8、One mobile phone or Tablet or PC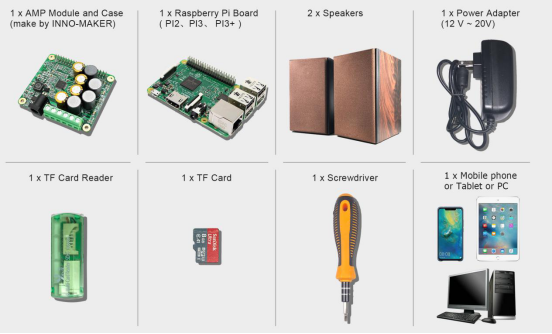 Step 1: Plug it together
(1) Plug the AMP module into the 40 pin GPIO head, and make sure the four hole are aligned correctly.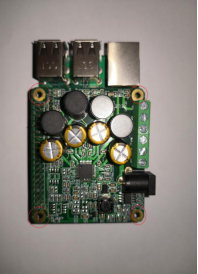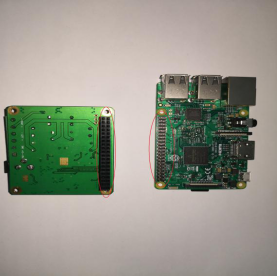 (2) And then push it down slowly with either thumb , but doesn't take much force.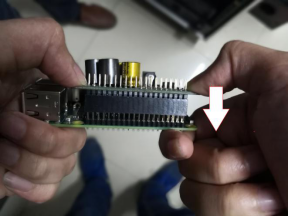 Step 2: Connecting
(1) Unscrew the six cover screws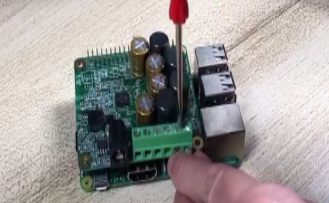 (2) And then plug the speaker cables into connector correctly and screw down. Please check the silk-screen on the back of the board.
(3) Please make sure your network is usable and plug in the LAN cable to Raspberry Pi.(If you only need to play your music through USD disk, you needn't plug the LAN cable)
Warning : The Raspberry Pi will be powered by the Amp. It is not allowed to connect 5V to the Micro-USB port of the Raspberry Pi. Power supply is only one external 12-20V power supply that will be connected directly to the Amp.
Step 3: Make a Volumio system TF card
This AMP module can support for many Raspberry pi music playback system such as:
OSMC / Max2Play / RuneAudio / Volumio / Moode / PiCorePlayer / PiMusicBox / OpenELEC/ etc.
Now we pick the Volumio, for example.
Volumio is a Free and Open Source Linux Distribution, designed and fine-tuned exclusively for music playback. I supports all filetypes: FLAC, Alac, Aac, Vorbis, Mp3, DSD etc. and support
By flashing (installing) Volumio on any platforms, it will then become a headless Audiophile Music Player. Headless means that the only way to control it will be with another device, such as a Smartphone, Tablet, PC or anything that has a browser.
For more detail please refer to https://volumio.org/discover/.
(1) Download the lastest Volumio image for Raspberry Pi : http://volumio.org/get-started/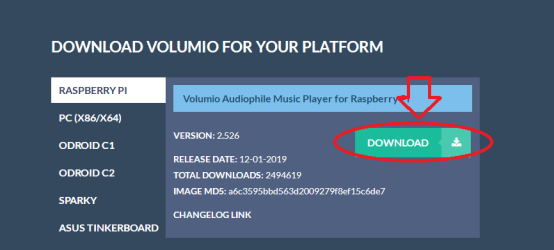 (2) Unzip and you will get a file: volumio-XXXX-XXXX-XX-XX-pi.img, as below:

(3) Download the Win32DiskImager tools and open Win32DiskImager.exe , select volumio-XXXX-XXXX-XX-XX-pi.img ,click 「write」wait for it complete(For more details about how to use Win32DiskImager please refer to www.inno-maker.com/wiki. It takes about 15 minutes,please be careful don't lose power during the process.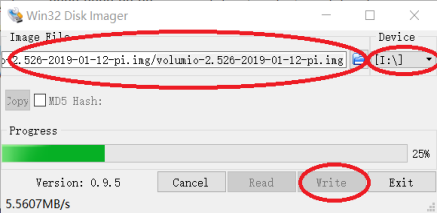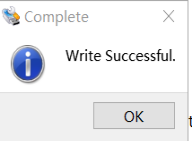 (4) Insert TF card into the Raspberry pi then power on. You can see two led always being on and one led flashing. If you can't see the flashing led, please make certain that the TF is properly seated or you can try to reload the Volumio to the TF card follow the above steps.
Step

4

: Configuring Volumio System
(1) Using your smart phone or tablet or any device with wifi and browser search for wifi
hotpots. You can see a "Volumin" name in the search list.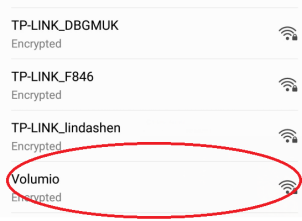 (2) Connect this Volumio hotpot with password "volumio2" (you can change your password once you login) the browser will automatically eject playback software UI which is based on web interface ( if you connect the hotspot successfully but for some reason browser can't pop up the playback page automatically, you can use http://192.168.211.1 to login in. You can see below wizard of Volumio. We only need to set "Language" , "Name" "Output" and "Done".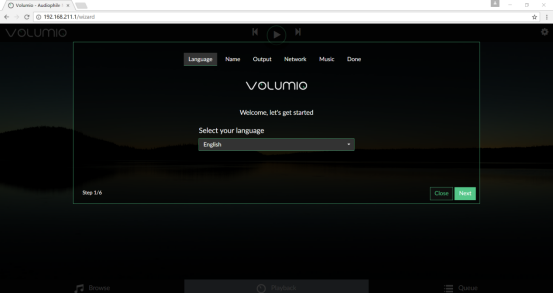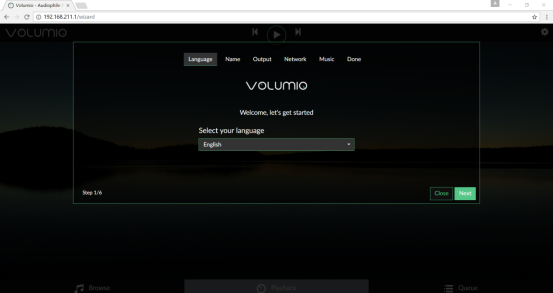 (3) It should be noted that "Output" page must set as below.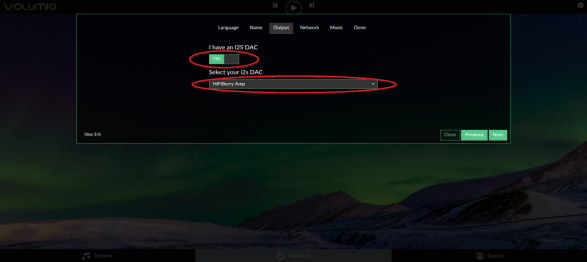 (4) In "Done" Page, you can see a request for donations from Volumio. It's depand on you. You can give them some help if you like this program. Gifts of roses, hand a fragrance.

(5) Click "Done " to finish initialization of Volumio. And then Volumio inform you to restart system. Click it.

(6) After restart you can see the main page of Volumio. In this process"Volumio" hotpot will turn off for a monment. Sometimes your mobile phone or Tablet or PC will automatic connect to other. You need to set back to "Volumio" hotpot.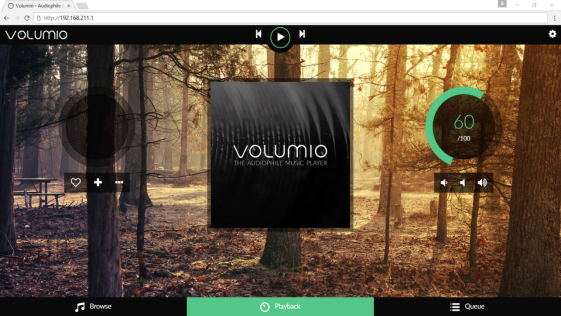 (7) Click "Setting" → PLAYBACK OPTION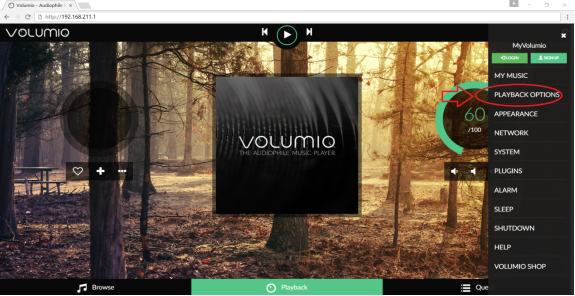 (8) Check "Audio Output"all settings is "HFIBerry Amp". This is an essential step, otherwise you can't hear anything.If you change click save, Volumio system restart.

(9) Back to main page and click "Browse"(Bottom Left Corner), to look for your music resources.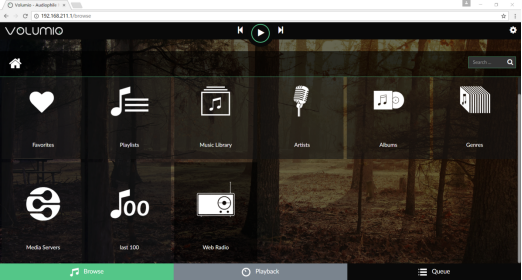 (10) You can insert the USB Disk with your own audio file into Raspberry Pi USB connector, and find the music list of your USD disk in "Music Library".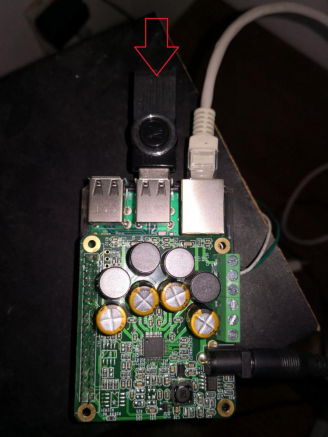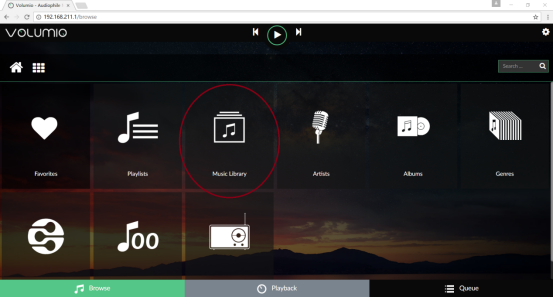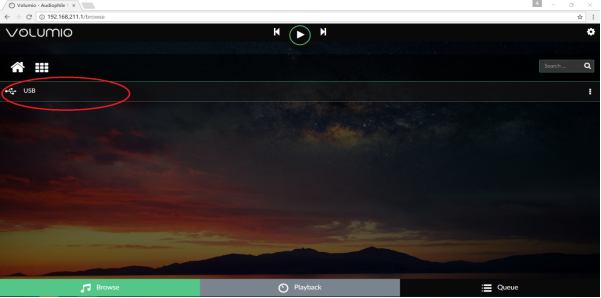 Case assembly:
Finally, give it a dress. For more information about the case please refer to
http://www.inno-maker.com/wiki/doku.php?id=hifi_amp_amp_kits_case_for_amp