Description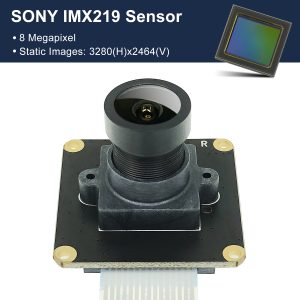 Jetson Nano 8mp camera
raspberry pi camera v2 Sensor Type: Low-cost 8 Megapixel IMX219 Sensor, Static Images: 3280(H)x2464(V) pixel, Support 1080p@30fps, 720p@60fps and 640x480p@90fps video record.
Lens: M12 Lens Seat, FOV90 Degree Lens, Focal Length: 2.8mm, Aperture (F) : 2.2, IR: 4G+IR.
Support raspistill, raspivid and raspiyuv command line, Board Size: 32mm x 32mm.
Packing List: PICAM-IMX219-FOV90 Module x1, FPC Cable x1, FOV90 Degree Camera Lens x1.
Specification
| | |
| --- | --- |
| Sensor Type: | Low-cost 8 Megapixel IMX219 Sensor, Static Images: 3280(H)x2464(V) pixel, Support 1080p@30fps, 720p@60fps and 640x480p@90fps video record. |
| Camera Lens: | M12 Lens Seat, FOV90 Degree Lens, Focal Length: 2.8mm, Aperture (F) : 2.2, IR: 4G+IR. |
| Packing List: | PICAM-IMX219-FOV90 Module x1, FPC Cable x1, FOV90 Degree Camera Lens x1. |
| Support Hardware | Raspberry PI4/PI3+/PI3/PI2/PI0/CM4/CM3+/CM3/Jetson Nano |
| | |
| --- | --- |
| Buster Os | Raspberry PI Legacy Os(Buster), including raspistill, raspivid , raspiyuv commands |
| Bullseye Os | Raspberry PI 32bit/64bit Os(Bullseye), including libcamera-hello command |
| Size | 32cmx32cm |
Quick Start For Raspberry PI Legacy Os(Buster)
Step1, Download System

Step1, Download the raspberry pi legacy os, please do not use the bullseye system if you wish to use raspistill, raspivid , raspiyuv commands.

The latest raspberry pi bulleys do not support the old command

Step2,Enable Camera

Step2, Enable Camera

use command sudo raspi-config and select

Enable Camera

Step3, Test result

Step3, Test Example

raspistill -o a.jpg -t 1000

More information please check raspistill,raspivid,raspiyuv
Quick Start For Raspberry PI 32/64 bit Os(Bullseye)
Step1, Download System

Step1, Download the raspberry pi bullseye os

Step2,Enable Camera Legacy Mode

Step2, Enable Legacy Camera Mode.

Use command sudo raspi-config and select

Legacy Camera Enable and then reboot

Step3, Test result

Step3, Test Example

raspistill -o a.jpg -t 1000

More information please check raspistill,raspivid,raspiyuv